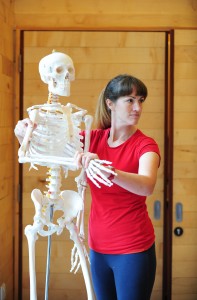 Immerse yourself in the practice and philosophy of the yoga that you love. Our programme of study will give you the knowledge required to become proficient in teaching a wide range of hatha yoga postures, sequences, pranayama practices, meditation and deep relaxation techniques. Your own abilities will inevitably evolve as you delve deeply into the theory behind the practice.
The course is designed to create skillful, compassionate, creative and confident teachers with an understanding of how to apply yoga practices to suit the students you encounter.
You will learn how to create and deliver yoga classes in both slow and dynamic styles for a range of different students.
You will be taught to observe students, and assist and adjust, using verbal cues and sometimes with hands-on adjustments, with a thorough understanding of how to adapt to a range of common physical limitations.
Together we will study the human body and how its systems function, and we will explore the way that the yogic concepts of the subtle body including the nadis, vayus and chakras, intersect with modern Western concepts and the latest scientific research.
You will become knowledgeable about the history of yoga, from the beginnings to modern day, and you will learn about the fascinating philosophy that underpins the yogic way of life.
We will show you how to set up, organise and manage a yoga business, and give you a foundation upon which to grow your yoga career. There is so much to discover!
Click here for dates, fees and how to apply.
Course Content:
Hatha Yoga Studies 
Asana

Pranayama

Mudras

Bandhas

Kriyas

Chanting

Meditation

Relaxation and Yoga Nidra
Teaching Skills
How to teach effectively

Creating a positive, accessible learning environment

Class planning

Understanding bodies and adjusting to different requirements

Physical assists

Plenty of actual teaching practice to develop confidence

Sequencing for a variety of levels

Partner yoga

Teaching on chairs

Teaching yoga to children

Teaching pregnant women within your general classes

Teaching for a selection of common physical limitations
Philosophy
Study of various Yoga texts

Full exploration of Patanjali's 8 limbs of Yoga

The History of Yoga

Understanding of the Chakras, Nadis and other yogic concepts

Yoga and Science
Anatomy and Physiology
Main systems of the human body

Common ailments and how to consider these as a yoga teacher

Detailed study of the body's joints and how we take care of them

Detailed study of yoga postures and the muscles involved
Becoming a Professional Yoga teacher
Developing a career in yoga teaching

Professionalism and Ethics

Networking

Advertising

Managing a yoga business
This is a minimum, our courses are constantly evolving and with the knowledge of Simon and Jane and their guest teachers, you will experience so much more!
For our application form please click here.
Our training school has met the stringent requirements set by Yoga Alliance Professionals, demonstrating that our courses are of the highest standard and that our graduates may register with Yoga Alliance Professionals to use their relevant membership level designation, as a sign of quality training.