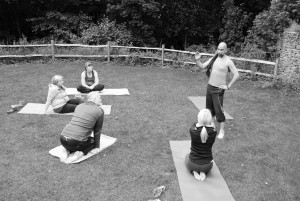 Our courses are arranged in blocks of 2, 3 or 5 days, which add up to 200 hours of training with Jane Collins and Simon Barth. In between the blocks of learning, we allow time for you to absorb the information, and for self practice. The blocks are completed within 6 months, so your dream of becoming a qualified yoga teacher is just around the corner.
Each day runs from 8am til 6pm. Yes it's a 10 hour day, but yoga teacher training is a joyful blend of theory and practice, (including relaxation), so it is less taxing than you might imagine. There are plenty of breaks and a full hour for lunch, and other trainees have agreed that the days are thoroughly enjoyable.
The coursework is mostly completed within each teaching day, so the written work that you are expected to complete outside of training hours is kept to a minimum. We do expect you to do your yoga practice but we also understand the need to live your life.
2020's dates are:
Block 1 Monday 10th, Tuesday 11th, Wednesday 12th, Thursday 13th, Friday 14th of February
Block 2 Monday 6th, Tuesday 7th, Wednesday 8th, Thursday 9th, Friday 10th April
Block 3 Monday 1st, Tuesday 2nd, Wednesday 3rd, Thursday 4th, Friday 5th June
Block 4 Saturday 27th June and Sunday 28th June
Block 5 Friday 24th, Saturday 25th, Sunday 26th July
The Price:
Our course is just £1950, or if you pay in full 4 months before the start of a course, it's only £1750, an early bird bonus! This price includes all tuition, a comprehensive course manual, all assessments and access to our library of texts. It also includes light refreshments on course days.
It doesn't include breakfast, lunch or dinner, (you will need to provide this, or bring money to eat at local cafes). Nor does it include accommodation, but we have several suggestions if you need a recommendation.
We would need a deposit of £150 to secure your place, (this is non refundable). The the rest of the fee can be paid in installments to suit you, but must all be paid a month before the first day of training.
We advise that you organise a weekly payment, (it feels easier on the bank account). But a monthly one would also be acceptable. Of course, you can also pay the full amount straight away, it's a great help to us if you do this, it means we can pay in advance to secure the best spaces to learn in.
We are committed to  making this course accessible to all. If you are in financial hardship and are very serious about doing the course, please contact us to discuss our payment schemes and/or a bursary.
All Hatha Yoga T.T courses are held in Sheffield. Usually close to the centre on the South West side of the city.
Tempted to apply? Here's our application form.
Our training school has met the stringent requirements set by Yoga Alliance Professionals, demonstrating that our courses are of the highest standard and that our graduates may register with Yoga Alliance Professionals to use their relevant membership level designation, as a sign of quality training.