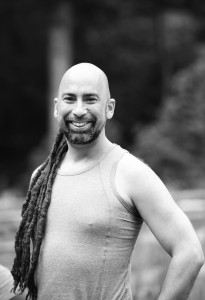 Simon Barth has been teaching Yoga for many many years, 5 of those were in Goa, India, where he learned to teach and now his classes are in Sheffield, where The Collins & Barth School of Yoga is based.
Simon is regularly invited to teach on yoga retreats and yoga days and is extremely popular amongst his students who love him for his humour and light hearted attitude, although his serious passion for yoga runs very deep.
Simon's background in Neuro Linguistic Programming, (NLP), psychology and counselling gives him an excellent understanding of the brain. His former career as a  teacher and mentor in mainstream education gives Simon a special understanding of ways in which students learn, and potential barriers to their understanding. He is particularly sensitive to the individual needs of each learner.