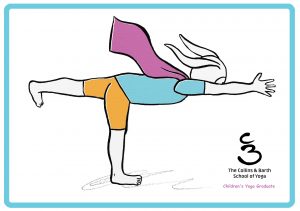 This course is packed full of ideas for inspiring children with Yoga
Fully accredited by Yoga Alliance Professionals, the training is comprehensive, covering all you need to know to become an expert children's yoga teacher. Your tutor, Jane Collins, has over a decade of experience teaching children of all ages and she shares her knowledge in a fresh and enjoyable way. Jane will ensure that you take away practical skills in yoga story telling and the delivery of games and yoga based activities, the knowledge you will gain is extensive, preparing you for teaching children in a variety of settings.
The course covers ages 3 to 12 years. Once completed, you'll receive a certificate accredited by YAP.
Course Prerequisites:
A passion for yoga, (2 years minimum of attending classes), and a passion for working with children.
Depending on people's experience of working with children, it may be possible to attend the course with a little less yoga experience, but it is very important to be familiar with yoga postures so that you are able to demonstrate to the children effectively. You do not need to already have experience with children though, but as you can imagine, it helps!
You do not need to already hold an adult yoga teaching qualification. Teaching children is wildly different to teaching adults and the safe practices used in the method by Jane Collins are all covered on the course.
To apply click here.
Each course is in two parts. You attend the first part, (two days), and then, a few weeks later, you attend the second part, (another two days). This gives you a chance to absorb information from part one, and practice teaching, before returning to analyse and troubleshoot your experience, and learn all the rest of the things you need to know to become a really excellent kid's yoga teacher.
Syllabus Content:
Games/Activities to bring a huge selection of yoga postures into the classroom
Adapting the Sun Salutation for different age groups and abilities
How to create yoga adventure stories
How to perform, how to use your voice and how to teach confidently and in a way that keeps children engaged
Breathing and Mindfulness practices for children
How to teach Yoga Relaxation to children
Classroom management and how to deal with disruption
Planning classes
Promoting classes
Where and when to teach, and all the important legal requirements for teaching children
Which props to use to make your classes even more fun
During the course, you will view short films of real children experiencing the techniques so you can see how wonderfully they respond. (A big thank you to the parents and children who gave their permission to make these films during classes).
And in addition to all that, we can guarantee that you will have a wonderful, hilarious time. One of our recent students said that she hadn't smiled and laughed so much in a very long time. The courses are full of joy.
You'll find some of the comments from graduates of the course at the bottom of this page.
The next dates for training courses are:
12th and 13th December 2020 PLUS 9th and 10th January 2021 via Zoom
6th and 7th March 2021 PLUS 3rd and 4th April 2021 via Zoom
1st and 2nd May 2021 PLUS 5th and 6th June 2021 in person in Bristol (depending on covid regulations).
We are currently organising more dates for courses in 2021 and 2022. Please get in touch if you would like to be informed, or perhaps you'd like to see the course in a city near you? Click here.
Please note that courses will continue to be held via Zoom until winter has passed and we can be more sure about how things are corona-wise.
The usual price for the course is £590 which includes a manual and a very special resource pack. Note that whilst on Zoom, there are savings and these are shared with you the attendee. So Zoom courses are £525. Please ask if you would prefer a lower price and not pay for the resource pack, (we'll understand). The pack is priced at £40, (for those attending the course). Without the resource pack, you can deduct £40 from the fee.
We have payment schemes available if you need to spread the cost, and a little funding available on each course for those who can't afford to pay the full price for the training. Please ask.
The course price includes all tuition, the wonderful course manual, the resource pack and a lifetime of support from Jane. She will always be on hand to answer questions or guide you in your teaching journey. Training doesn't end with the last day of the course ☺
You should note that you'll need public liability insurance, and a DBS to teach. We will discuss the various options for this on the course. Neither are included in the fee, but there are good value options for both and all the information needed to find those will be shared. You may even already have both, depending on the field in which you currently work.
The following information is for 'in person' courses only:
The price doesn't include meals or accommodation. You are encouraged to bring a packed lunch for your middle of the day break. Or there are cafés and shops close to our venues. We'll provide light snacks and refreshments to keep you going in the morning and afternoon breaks. We can recommended reasonably priced accommodation if you are travelling to the course from out of town.
Would you like to sign up? If so, please fill in the application form or, if you just want to find out more please contact us.
Wonderful weekend of Children's Yoga Training. An amazing course run by Collins and Barth School of Yoga. Jane is so inspirational – I've found my inner spaceman and prowling lioness! I can't wait to use my new found knowledge xx
Lisa Butcher – Leeds
I have just completed the Children's Yoga Course with Jane Collins. I can honestly say that this course was fantastic.  After two fun packed weekends I already feel confident to go out and teach children. I have already provided taster sessions at two schools and have been awarded a contract in September to teach a whole school. Jane is a wonderful teacher with such a wealth of experience, which just shone through on the course. I was amazed at how much we learned during these weekends together. Jane made it all feel so easy but I came out with a great skill set and am looking forward to teaching. I cannot recommend this course or Jane enough.
Kerry Wilson – Crich
Once again I would like to thank Jane from the bottom of my heart for training me to enable me to teach children's yoga techniques, you really don't understand how far I have come with your training this has enabled me to progress into a fantastic new job full time in a primary school as a behaviour intervention worker due the activity I did in the interview which of course was a yoga themed session the kids loved it!! The children's mindfulness techniques I was speaking about really caught their attention and they were very interested in the idea of different methods I was using to calm the children down as this had never been used before the children were hooked. Thank you again soooo much for helping me along the way to this perfect opportunity in the next step of my life. Lots of love Hannah x
Jane's knowledge and understanding about children's yoga and 'what works' is second to none. The course is highly practical, great fun and equips you with all the skills you need to be able to confidently share yoga with children. Based on my experience, I booked Jane to deliver an INSET Day at my school- she really is that good! 
Cordelia McLeod- Head of Teaching and Learning at a Primary School – Bath
It's amazing, inspiring and so much fun! I can't wait to get cracking!!
Jo Humphrey – Sheffield
Jane Collins was so warm, friendly, bucket loads of fun, and an expert teacher trainer – everything I wanted and more from my children's YTT. The course was so well balanced – a mix of storytelling, games, creative play, mindfulness and meditation exercises… all with children's interests at its heart. Over four days, we packed a lot in, but the course never felt rushed I felt confident practice teaching at my local nursery and a church on a few occasions between modules – something I never thought was possible before starting. All credit to Jane for delivering such a comprehensive course.
Rob Reid – Bristol
Our training school has met the stringent requirements set by Yoga Alliance Professionals, demonstrating that our courses are of the highest standard and that our graduates may register with Yoga Alliance Professionals to use their relevant membership level designation, as a sign of quality training.